Creative, Balanced Landscape Design Plans

As a Charleston native with 30 years of Lowcountry horticulture experience and an eye for design that can't be learned, I offer landscape design plans that balance creativity and practicality. As a businessman and an M.B.A., I approach my designs from a cost/benefit perspective as well as the perspective of the son of an artist.
Get more from your landscape design plans than the competition's, at the same price point:
Easy to read, color-coded drawings
Installation cost analysis
Complementary installation consultations (if needed)
Referrals to high-quality contractors who specialize in their respective fields (if needed)

I'm always happy to install small-scale projects myself, and I'm happy to manage large-scale installation projects for a nominal fee, upon request.
The design processes is convenient, timely, and thorough:
You and I have a conversation about goals and challenges, and either you send me photos of your property or I take them myself. (There's no charge for this initial consultation.)
I work on your project over the next 5-7 business days, welcoming feedback throughout the process.
By the 7th business day, I email you an easy-to-read, color-coded drawing, photos of plants and materials to be used, a description of the design concept, and a list of projected costs and recommended service providers (if needed).
I remain available for installation consultations at your convenience (if needed).
Sample Landscape Design Plans (Click images to enlarge.)
The following are examples of these landscape design packages, with color-coded drawings, photos of plants and materials to be used, descriptions of design concepts, and lists of projected costs and recommended service providers.
If you're interested in hiring me, please submit this form to request a free consultation. I look forward to serving you!
-Seth Mason,
Owner, Lowcountry Vistas
Charleston, SC
Residential Property, James Island (Google review here)

The following is an example of a residential project that I recently completed. The property was essentially a blank canvas located in an area with few design restrictions. As such, I was free to maximize vision, creativity, and practicality to realize the dream property the owners were looking for.
The few existing elements the property had were Lowcountry jewels: tremendous live oaks, a view of the historic district and the Ravenel bridge across the harbor, a deep water dock with an attached floating dock, and a heated salt water in-ground pool. These elements made excellent foundations on which to build.
As I typically do, I used as many native, low-maintenance evergreens as possible, I grouped together "barrier island" plants such as palms and grasses and "inland Lowcountry" plants such as live oaks and azaleas, and I connected the barrier island and inland plant groups with crepe myrtles and conifers. I also strived to balance color, size, shape, texture, and density as well as lighting.
The property is conducive to the ideal Charleston lifestyle; rather than outlining it with plants, I chose to outline the elements in which the owners would live and play. The property's existing "Lowcountry jewels" are visible from most angles; I gave them extra shine, literally through illumination and figuratively through the placement of complementary rocks, metal edging, and native plants.
Because of the importance of the "lifestyle" qualities of the property, I dedicated approximately 2,000 square feet to a backyard play area, which consists of an illuminated grand fountain rising from a 1,200 square foot patio with a built-in fire pit and hot tub, in addition to the pool.
I created this design as a "perfect world" model and gradually removed elements until it conformed with the clients' budget. The end product remains an ambitious project that should bring the family a lifetime of joy.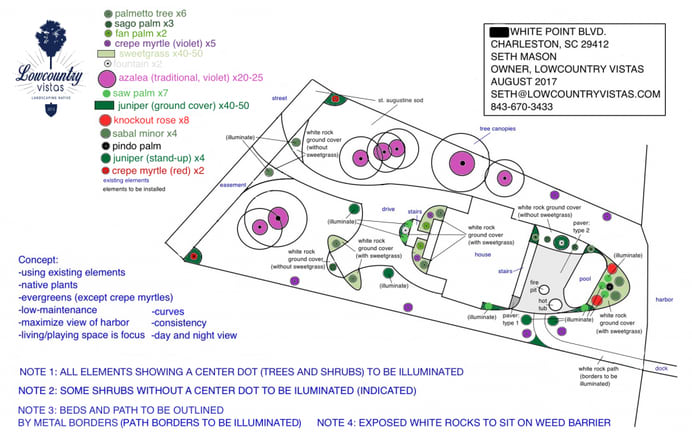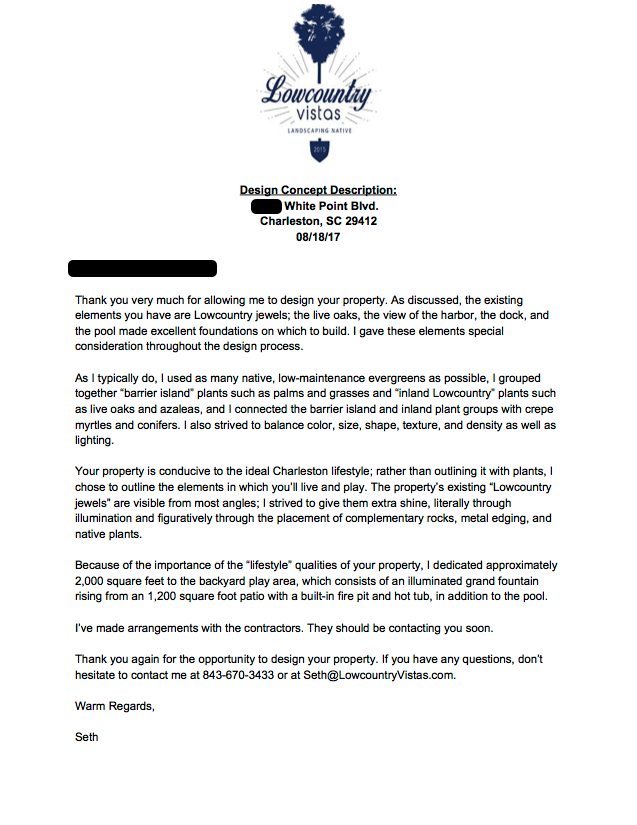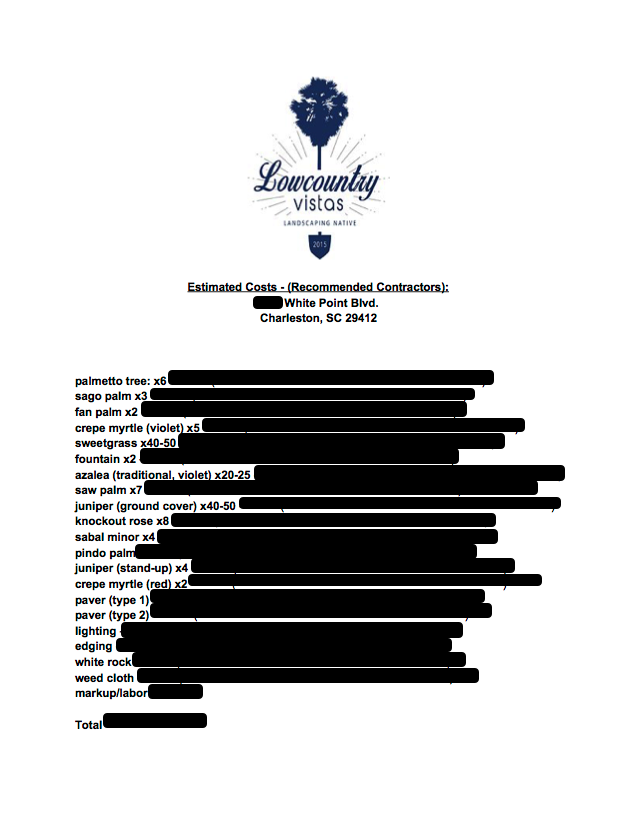 Commercial Property, West Ashley (Google review here)
This project presented unique challenges due to design requirements set by the county. Most notably, I was required to place deciduous canopy trees near the entrances, something I normally wouldn't do. Entrances are immensely important to commercial properties; without the county's restrictions, I would have outlined them with symmetrical, evergreen, non-canopy trees and shrubs the way that columns and railings outline entrances to structures. I was able to outline the entrance to the building with a tiered sabal minor/palmetto tree combination, however.
Despite the limitations, I was able to implement one of my most important design principles: use of as many low-maintenance, native evergreens as possible. As always, I made a concerted effort to balance color, texture, scale, and density, utilize consistency and symmetry, and outline entrances, exits, and areas of traffic flow as well the property and the building itself.
I placed plants and lighting on the side that faces Savannah Highway in such a way that the sign and the building are the focus.
As I typically do, I grouped "barrier island" Lowcountry plants such as palmetto trees, sabal minors, and sweetgrass and used crepe myrtles and wax myrtles to bridge the aforementioned barrier island plants with groups of "inland Lowcountry" plants such as elms, plums, and azaleas.