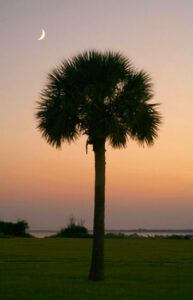 Although I've been too busy over the last several years to update the site, a certain search engine has forced my hand: Lowcountry Vistas was a victim of a certain search engine's rogue "anti-spam" robot, which indiscriminately removed countless reviews from millions of local businesses across the country at the end of 2022. Local service businesses like Lowcountry Vistas were hit particularly hard…I'm adding this page to showcase photos from some of the customers' reviews that a certain search engine wiped from the internet along with millions of others.
Very fortunately, the Big Tech superpower didn't remove most of the photos associated with the reviews it took…I was able to recover many of the photos that Lowcountry Vistas' customers posted with their reviews, which date back to Vistas' launch in 2015.
I'm taking this opportunity to showcase some of these photos and describe their associated landscape design projects in detail.
It's worth noting that all of the removed reviews were 5 stars and included complements…I'm proud to say that Lowcountry Vistas has never received less than a 5 star review since I launched the business in 2015. I'm also proud to say that every customer who has left a review since 2015 has taken the time to write a complement.
Hopefully, the photos I'm showcasing here will give you a better understanding of my native, low-maintenance Lowcountry landscape design philosophy and demonstrate why I've been earning complements since 2015.
I design like Mother Nature would design if she were a landscape designer in the South Carolina Lowcountry.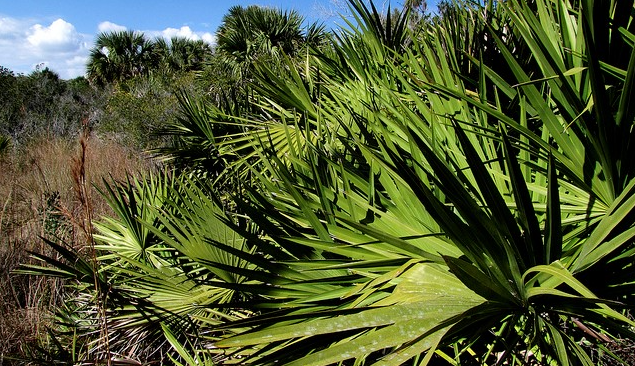 First, let's start with a photo that exemplifies what makes the Lowcountry special. This marsh transition zone on Kiawah is the native habitat of some of the Lowcountry's most iconic plants: grand trees such as live oaks and palmettos, cold-hardy shrub palms such as sabal minors and saw palms, and unique coastal grasses such as spartina and muhly grass. (There's a wild holly in the background, too.)
Next, let's compare this photo with the following photos of my work. Note the similarities: I try to design as if Mother Nature herself were a landscape designer in the South Carolina Lowcountry. The idea is to harmonize my customers' properties with the awe-inspiring natural beauty of the region.
On Kiawah Island, zip code 29455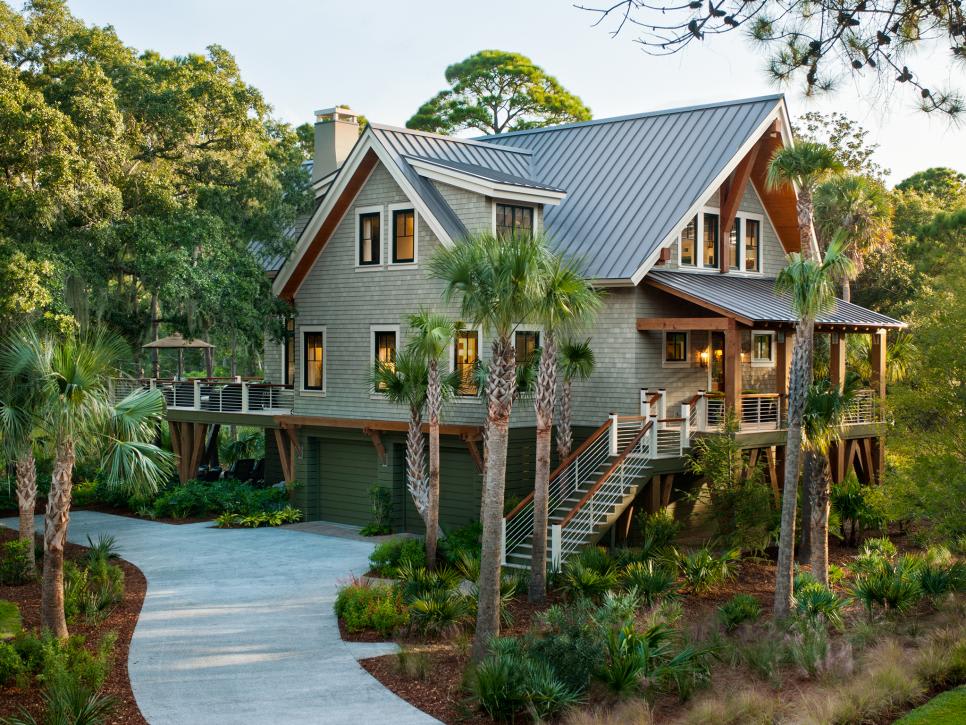 I consider this one of my "marquee" projects because there were no budgetary limitations to my vision. I said that I design like Mother Nature would if she were a landscape designer in the Lowcountry…I also design as if I lived at the property myself. If I lived at this property, this is the exact yard I would have, minus the driveway. (I would have used a driveway material/color that better harmonized with the landscaping…but they wanted this light-colored concrete, and the customer is always right.)
In addition to being breathtakingly beautiful, the homeowners can save their breaths because I used native plants that are best suited for the property…the yard hardly needs any maintenance at all, regardless of the season. Like most of the properties I design, this one is comprised of nothing but plants that Mother Nature "made" especially for the Lowcountry. (I use native, low-maintenance plants nearly exclusively in all of my projects.)
The house is modern, but the same landscape design would look great surrounding an old Lowcountry "country house", with a darker driveway of course. As you'll see in the last photo I showcase on this page (from a self-serve car wash of all places), my designs can harmonize basically any man-made structure with the awe-inspiring natural beauty of the Lowcountry, regardless of how alien that structure is to the native environment.
In Mt. Pleasant, zip code 29466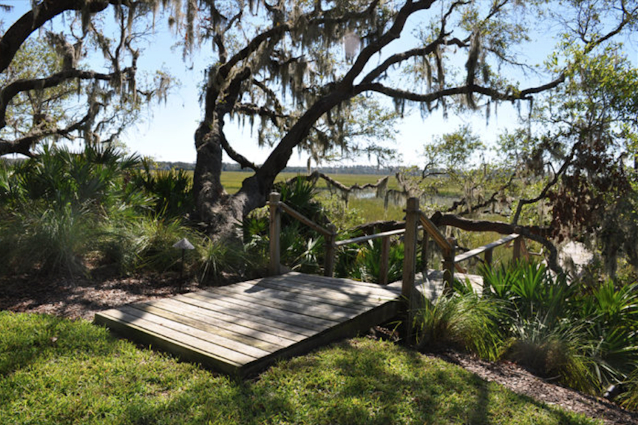 In case you didn't notice on other pages of the site such as my blog post about the importance of hiring a native Lowcountry landscape designer, I'm a big fan of iconic Lowcountry author Pat Conroy. I'm such a fan that I consider old Pat a muse; he was well-known for articulating the breathtaking natural beauty of the South Carolina Lowcountry.
When I lived in Mt. Pleasant after undergrad school, I used to read Pat Conroy novels at Palmetto Islands County Park…there's nothing quite as "Lowcountry" as reading Pat Conroy next to spartina salt marsh. The inspiration for the dock area of this property came directly from those sessions of "deep Lowcountry immersion" at the crown jewel of the Charleston County Parks and Recreation Commission.
Also in Mt. Pleasant, zip code 29466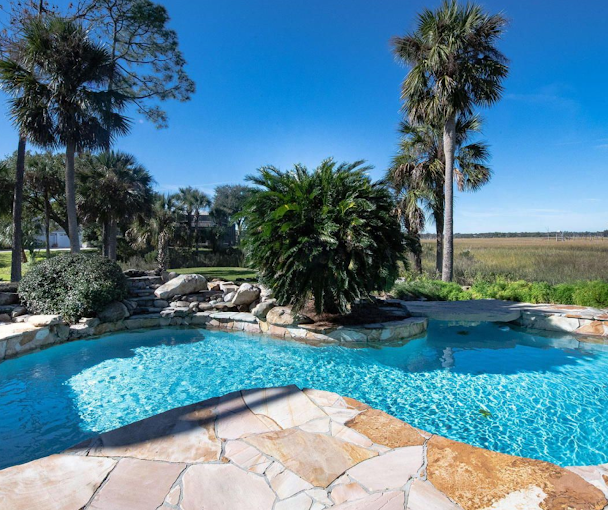 These customers were from California and had an affinity for the Caribbean…they wanted a pool area that reminded them of their home state, reminded them of the Bahamas, and harmonized with the native Lowcountry natural environment. (Let's see if an A.I. robot could design that!) It wasn't a typical customer request, but the couple was happy with the results…and I was happy I was able to pull it off.
The spartina salt marsh backdrop is obviously quintessentially "Lowcountry"; I designed the pool area to represent the rocky California coast using colors that represented the various shades of white sand commonly found on the South Carolina coast. What's more, I added palmetto trees (icons of the SC coast) and two shrubs that are commonly found on both the SC and CA coasts: a sago palm and a yaupon holly. (I wouldn't have manicured the holly like they did, but to each their own.)
I made the pool as clear-blue as possible to represent the seawater of the Bahamas, and I tied everything together using some of the same indigenous coastal grasses that can be seen in the first photo on this page (the one which exemplifies what I think makes the Lowcountry special).
In Hollywood, zip code 29449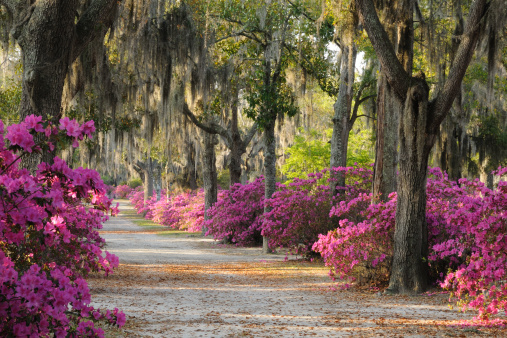 I'm putting this one in the middle to demonstrate that the "Gone with the Wind" Charleston look is part of my repertoire. I feel the need to make that clear; here's why:
When I was interviewing contractors to install my designs a few years ago, I asked each of them to describe in a few words the overall "look" I go for. One said "coastal contemporary". (Where's the facepalm emoji?)
No, "coastal contemporary" could refer to a modern beach house anywhere in the world…I live and breathe NATIVE, LOW-MAINTENANCE LOWCOUNTRY LANDSCAPE DESIGN concepts. Needless to say, I don't work with that particular contractor.
Although a lot of "iconic" Southern plants such as azaleas, camellias, and crepe myrtles are actually from Asia, they've been a staple of the Lowcountry for centuries…they might as well be native. You often see these species planted in formal gardens, such as the ones found in the Historic District of the Charleston peninsula.
Although I like the formal gardens of the Historic District (FYI, you can enjoy them on the Charleston Gallery Association's First Friday Artwalks), I think these "native-nonnative" Southern icons look best when they're allowed to grow wild as part of the native ecosystem. The azaleas and camellias I interspersed along this private road in Hollywood exemplify this. (Again, I try to design as if Mother Nature herself were a landscape designer in the South Carolina Lowcountry.)
On Isle of Palms, zip code 29451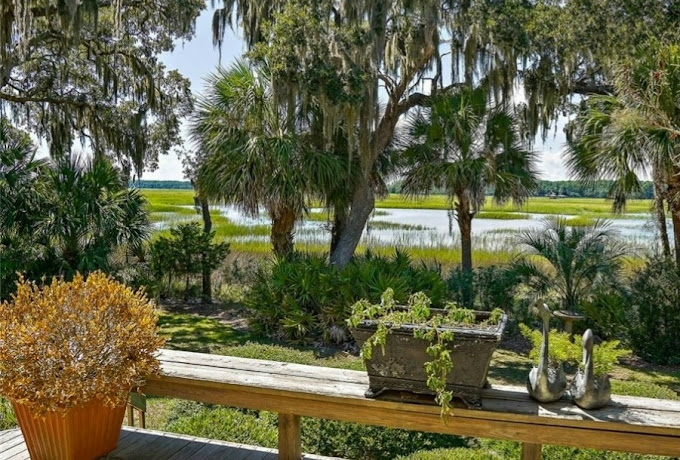 Speaking of Charleston Gallery Association Artwalks, this customer posted a shot that they edited to look like a metal print…they said the scene "looked like art". (I'll take the complement.) When people think of Isle of Palms (or any of the barrier islands of the Charleston area), they usually think of sandy beaches. But sandy beaches are just part of what makes the Lowcountry great; the spartina salt marshes are the linchpin of the unique Lowcountry maritime environment. So, I "enhanced" the customer's backyard by enhancing the native spartina salt marsh environment.
This customer also wanted a clear delineation between the "allow-to-grow-wild" natural marsh area and the "maintained" area around the house, which they also wanted harmonized with the surrounding natural environment. (Again, lets see an A.I. robot do that.) So, I gave the back deck area a rustic, yet orderly, Lowcountry look.
On James Island, zip code 29412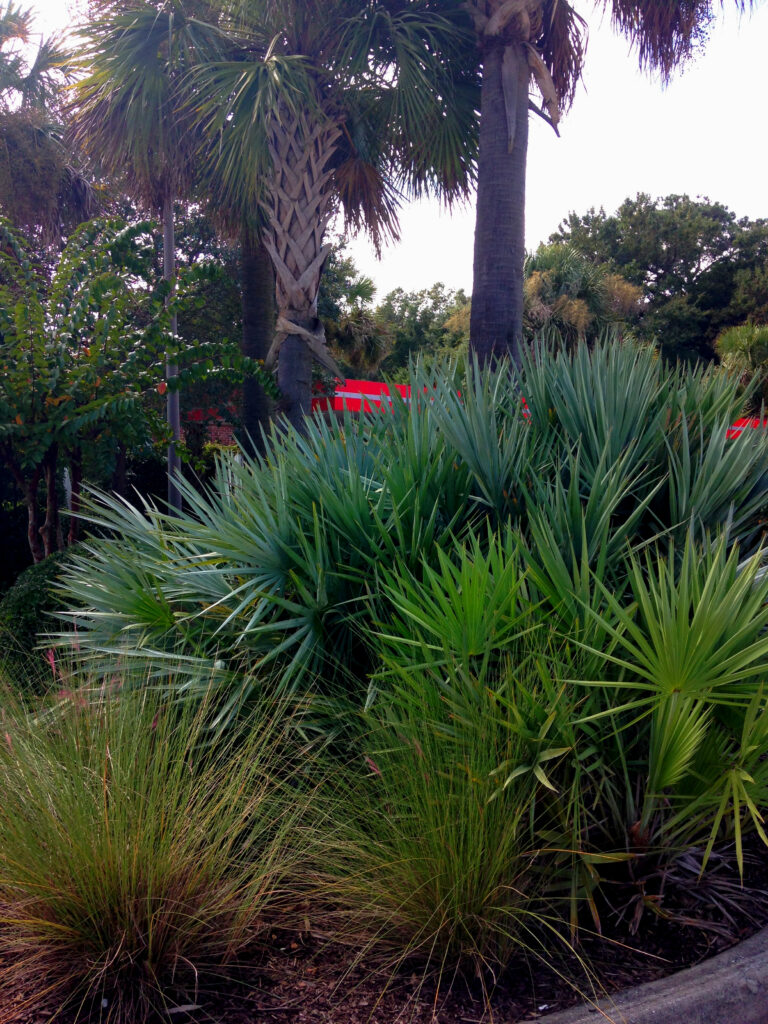 Coming full-circle and tying it all together…this self-service car wash on James Island was one of my first landscape design projects and my very first commercial landscape design project. If you spent much time on J.I. or Folly between 2015-2017, you probably passed it countless times. A couple of years before the pandemic, a lot of the landscaping was removed to make room for the expansion of the intersection of Folly and Camp…I'm very fortunate that a certain search engine didn't delete this shot, lest my first commercial design be lost forever.
The job was simple in nature, yet conceptually difficult: I had to make one of the island's ugliest commercial properties look more like the pristine Lowcountry maritime forest depicted in the first photo. This is what I came up with…note that I was able to hide a lot of the gas station in the background, too. (As with the pool area in Mt. Pleasant, the yaupon holly was my idea, but manicuring it wasn't.)
I live and breathe native, low-maintenance landscape design projects in the South Carolina Lowcountry.
No rogue anti-spam bot can ever take away the awe-inspiring natural beauty of the Lowcountry that fuels my work. No A.I. robot can replace the almost-spiritual connection I share with the native Lowcountry natural environment. I will always strive to harmonize my customers' properties with the amazing ecosystem that Pat Conroy described so eloquently.
-Seth Mason, Charleston SC