In order to get a native, low-maintenance landscape design plan and installation for your Lowcountry residential property, contact me today to request a free consultation. I harmonize residential and commercial properties with the natural Lowcountry environment throughout the metro Charleston area as well as the South Carolina Lowcountry as a whole.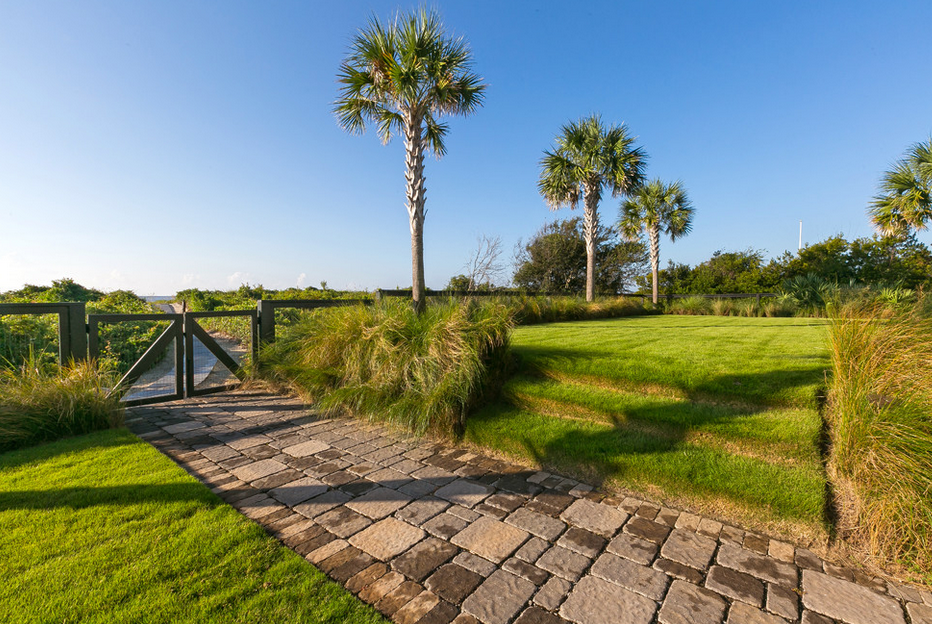 Residential Landscape Design, Mt. Pleasant: "Harmony"
See more of my native, low-maintenance landscape design projects and reviews of them here.
On this project, I designed the landscaping for a new house constructed on a large, undeveloped lot in mostly-undeveloped far north Mt. Pleasant (zip code 29466). Most of the lot was kept wooded, which gave the property a distinct rural feel representative of the surrounding area. The house, on the other hand, had a very modern feel. Featuring a large number of sharp angles not found in nature, the structure contrasted greatly with the wilderness around it. Due to the clash between the mostly-natural lot and the modern design of the house, I approached the project with the key goal of bringing harmony between nature and man.
Located in a saltwater/freshwater transition zone, the property featured a mix of existing "coastal Lowcountry" and "inland Lowcountry" trees and shrubs. Building upon the natural plant orientation, I used a mix of coastal and inland greenery to bring harmony between the natural and man-made elements. As I typically do, I made heavy use of native, low-maintenance Lowcountry evergreen trees and shrubs to maximize aesthetics, feel, and utility while minimizing hassle. As always, I aimed to balance size, shape, texture, and color.
I'm a strong advocate of incorporating landscape lighting in designs to accentuate elements and extend aesthetic appeal beyond sundown. This time, however, I made even greater use of illumination due to the homeowners' desire to play with their children after dark and feel safe in a wooded, unfenced property located in a sparsely-populated, mostly-undeveloped area. Also, as the family would spend a significant amount of time playing outdoors in a deep woods environment, I made generous use of mosquito-repelling creeping rosemary as ground cover.
I asked the homeowners to describe the design plan in a few words. Their first word: "harmonious". Mission accomplished.
Click images to enlarge.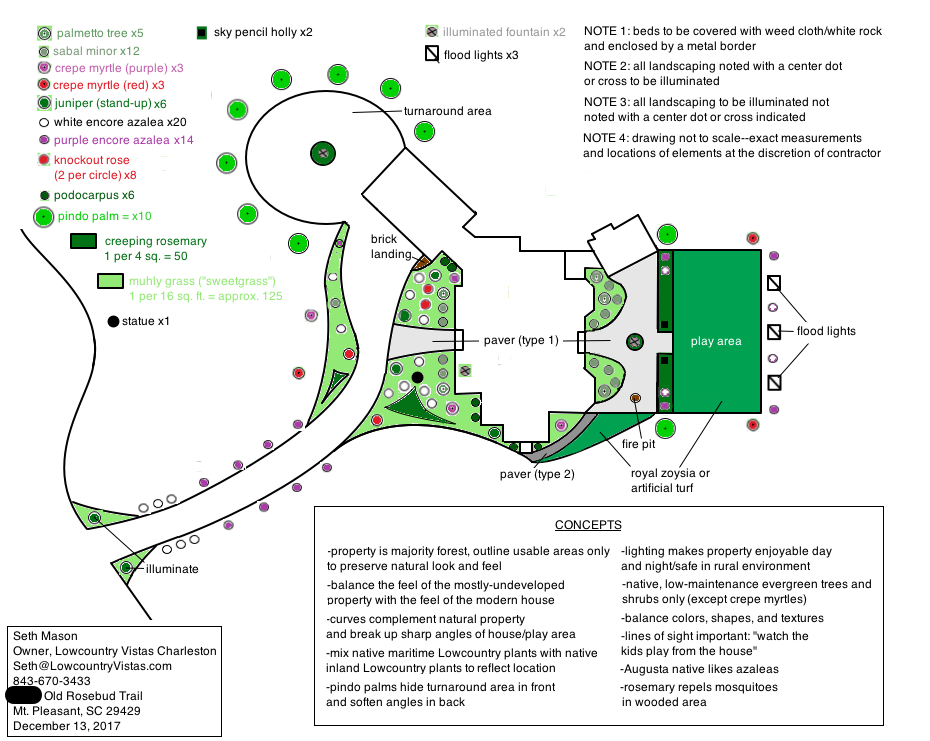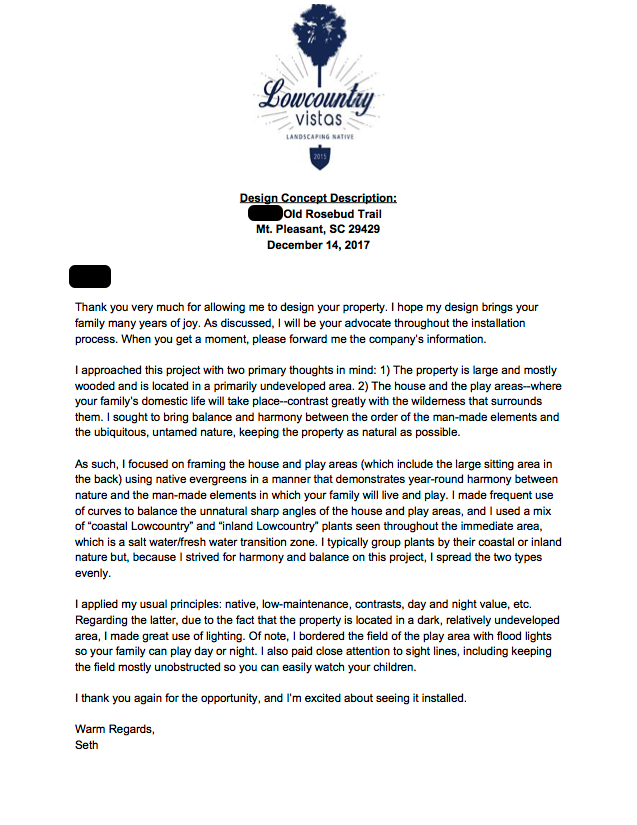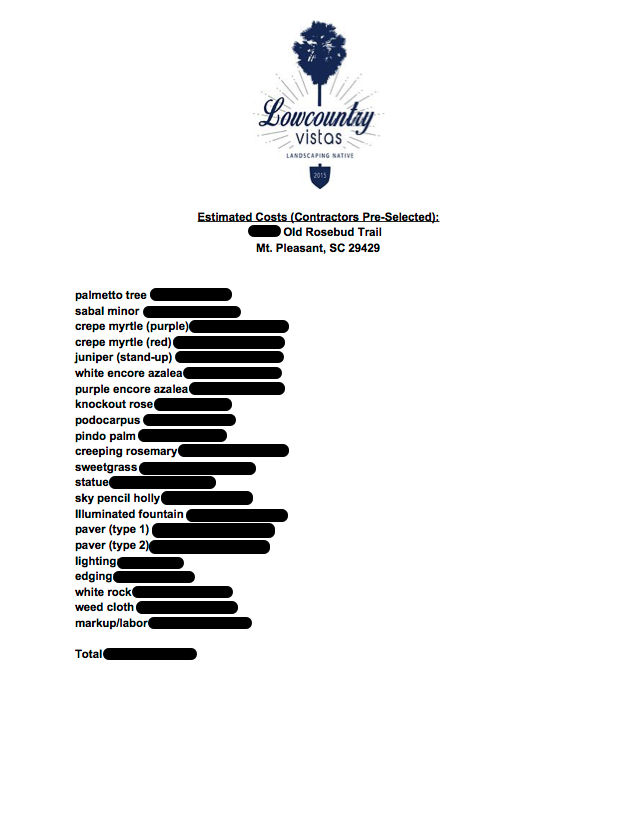 Residential Landscape Design, James Island: "Harmonious"
See more of my native, low-maintenance landscape design projects and reviews of them here.
I completed this project for a recently-retired couple looking to demolish a 2,000 square foot 1960s house and construct a lovely, modern 7,000 square foot manor worthy of the breathtaking harborfront property on which it will sit.
The few existing elements the property had were Lowcountry jewels: tremendous live oaks, a view of the historic district and the Ravenel bridge across the harbor, a deep water dock with an attached floating dock, and a heated, salt water in-ground pool. These elements made excellent foundations on which to build a polished design.
As I typically do, I used as many native, low-maintenance evergreens as possible, I grouped together "coastal Lowcountry" plants such as palms and grasses and "inland Lowcountry" plants such as live oaks and azaleas, and I connected the two plant groups with crepe myrtles and conifers. I also aimed to balance color, size, shape, texture, and density as well as lighting.
The exquisite deepwater property on which the house will sit is a Lowcountry gem. Rather than tarnish its existing appeal with a preponderance of new elements, I chose to outline the areas in which the owners will live and play. The property's existing "Lowcountry showpieces" are visible from most angles; I gave them extra shine, literally through illumination and figuratively through the placement of complementary rocks, metal edging, and native plants.
Because of the importance of the "lifestyle" qualities of the property, I dedicated approximately 2,000 square feet to a backyard play area, which consists of an illuminated grand fountain rising from a 1,200 square foot patio with a built-in fire pit and hot tub, in addition to the existing pool.
I created this design as a "perfect world" model and gradually removed elements until it conformed with the clients' budget. The end result was a polished gem of the Lowcountry that should bring the family a lifetime of joy.
Click images to enlarge.