My love of South Carolina Lowcountry natural beauty extends beyond my landscape design work. When I'm not producing landscape design plans or installing landscaping, I can often be found taking photos of Lowcountry natural beauty from the Charleston landscapes I encounter on a daily basis. The following are some photos of Lowcountry landscape scenes that have particularly caught my eye.
Click Images To Enlarge
I advocate the use of lighting in landscape design so customers can enjoy their properties all day, every day. Making use of landscape lighting is part of my landscape design and installation philosophy. In the light, these beauty berries in my mother's yard on James Island look beautiful indeed.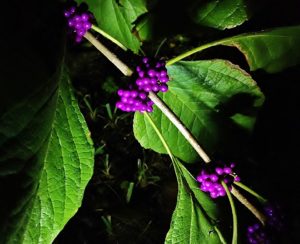 I love the look of backlit leaves, especially from palms and tropicals. Banana plants, like this one on Johns Island, aren't native and certainly don't like the cold. But, they're an excellent example of the beauty of backlighting.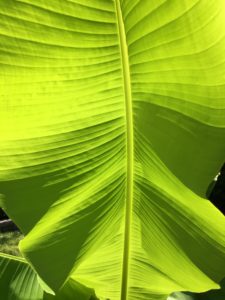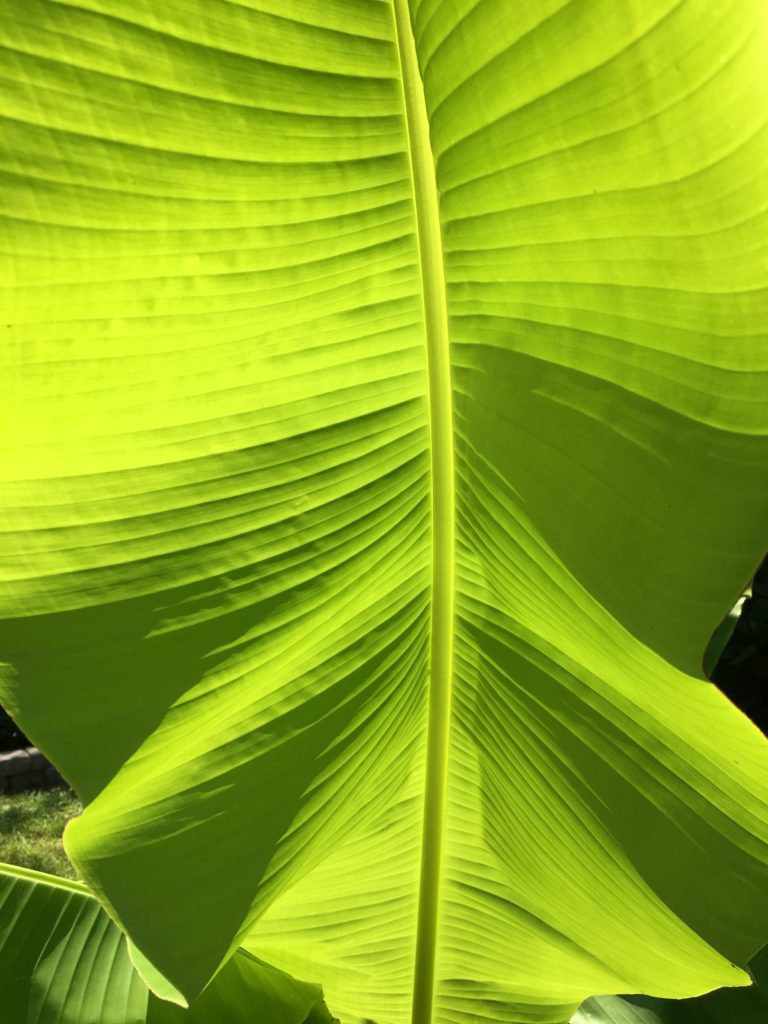 The beauty berry bush in my mom's yard on James Island also demonstrates how high-quality solar lights can create interesting nighttime backlighting.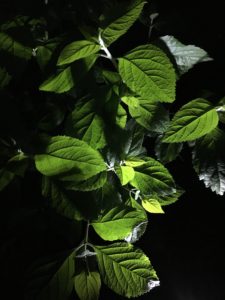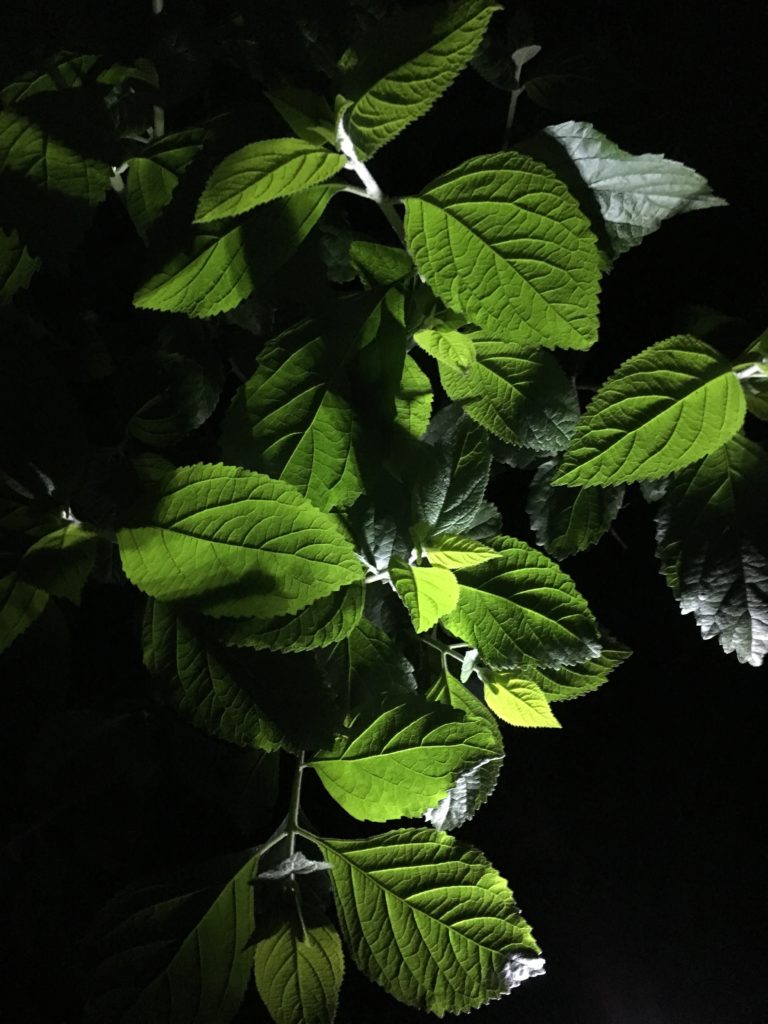 I like how the crescent moon is oriented with respect to this palmetto tree to make this picture from Sullivan's Island look like the South Carolina state flag. Palmettos are among my favorite trees: They're iconic, they have great historical significance in the Lowcountry, and they're one of the most cold-hardy native palms.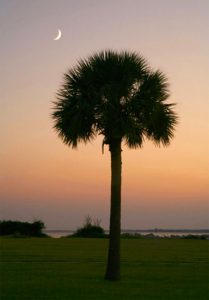 Magnolia Gardens, the crème de la crème of Lowcountry landscaping. If you want to see Lowcountry natural beauty at its finest, go here.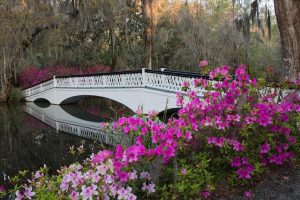 Interestingly, sweetgrass wasn't used as an ornamental plant in the Lowcountry until after Hurricane Hugo. Curious, as it looks great and grows wild on the barrier islands. This sweetgrass from one of my projects in Mt. Pleasant was showing off its distinctive pink/purple plumes.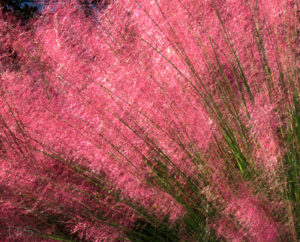 The wild canna lilies in front of this Folly Beach bungalow provide a glimpse of the property's potential. Located just two blocks from the pier, it would be an excellent property to refurbish. (Recall that landscape design is also a good investment.) Notice the mix of complementary and contrasting colors.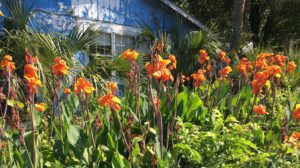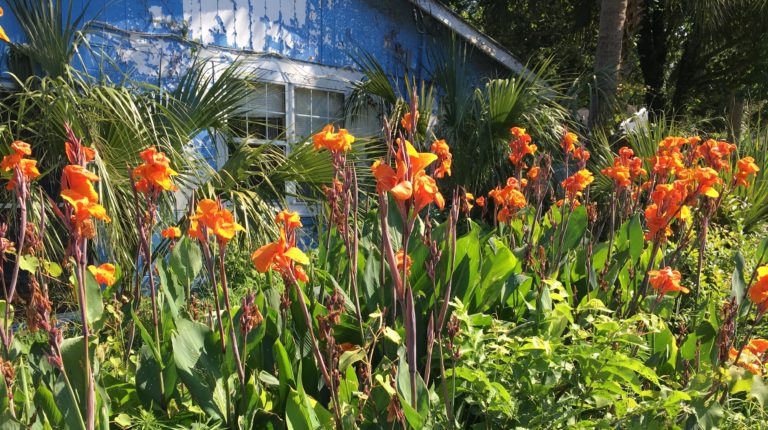 This camellia on Daniel Island gave sustenance to a pollen-hungry bee one chilly February day. Winter bloomers, camellias bring color and offer opportunities for pollination during colder months.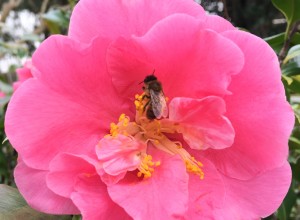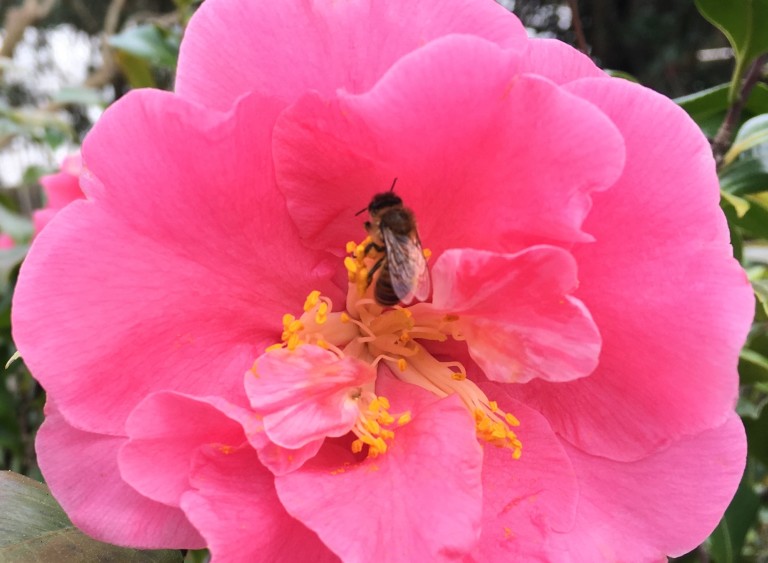 Traditional azaleas throughout the Lowcountry haven't had quite the pop this year, as some of their early blooms were damaged by some late freezes. However, many later blooms have thrived, such as these in Mt. Pleasant.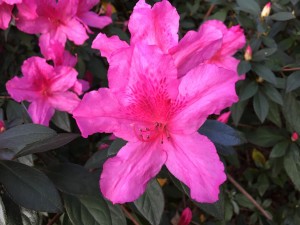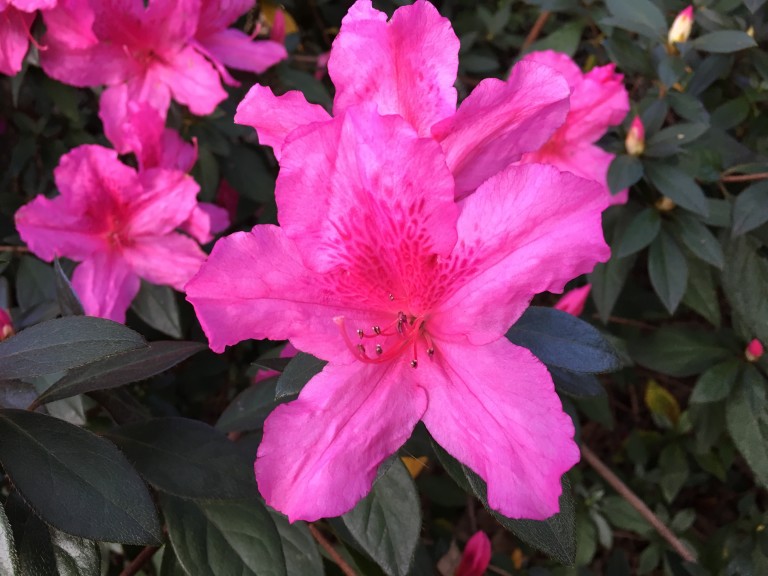 This is one of my mom's azaleas on James Island. It's an encore azalea, a subspecies that blooms throughout the growing season. Encores have been bred to display interesting color patterns.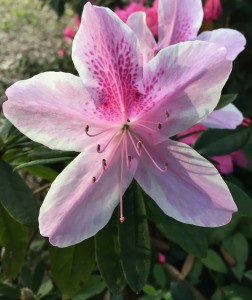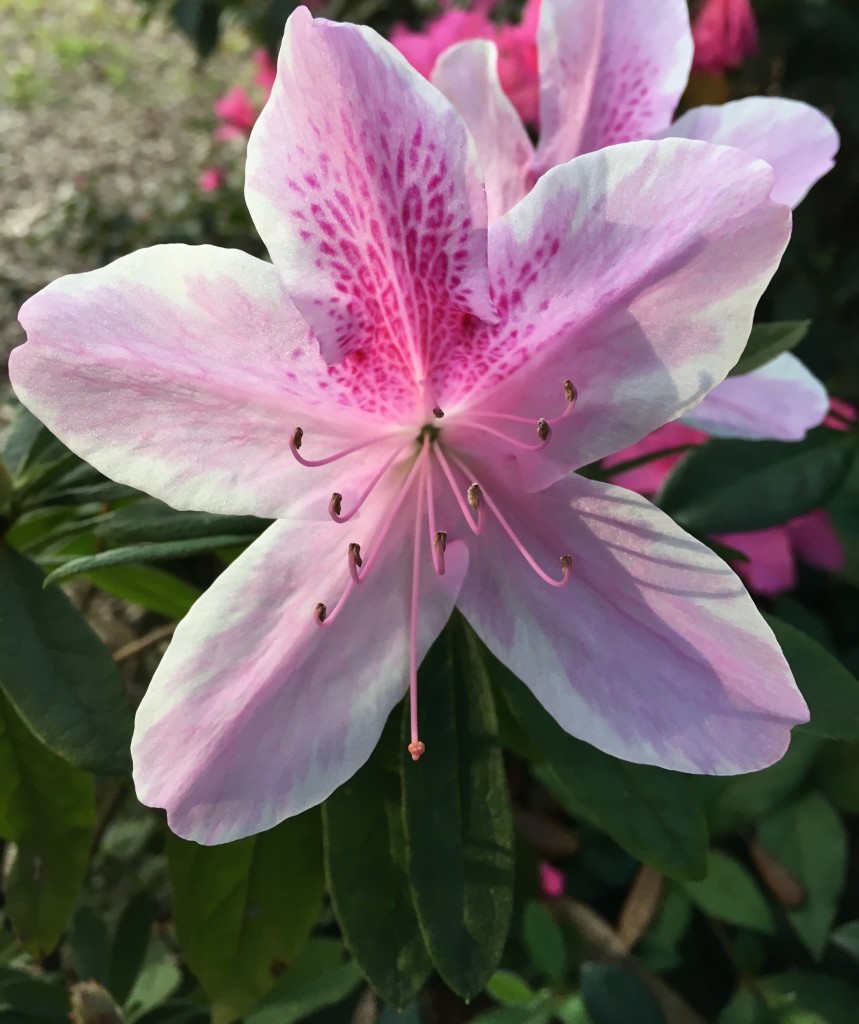 I typically prefer evergreens to deciduous trees, but I love tulip trees in the spring. I caught this one in West Ashley exhibiting the distinctive shape and color of its flowers.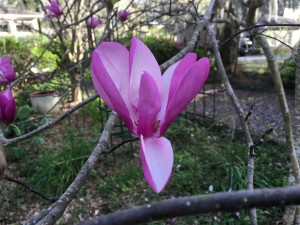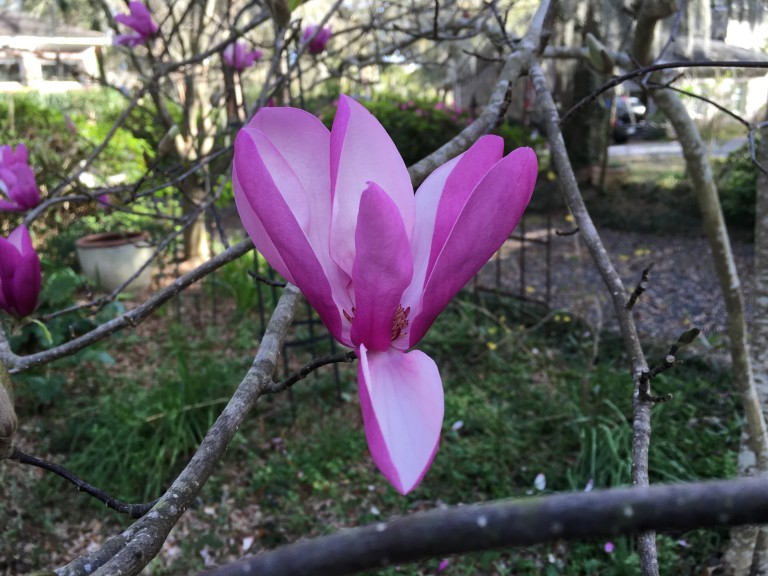 I installed this trellis and jessamine on James Island two years ago…it appears that the vines are going to produce a bumper crop of flowers this year. As a Lowcountry native, I feel that it's my duty to correct a common misconception: This plant, the JESSAMINE, is the South Carolina state flower. JASMINE is a different species.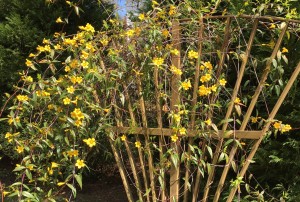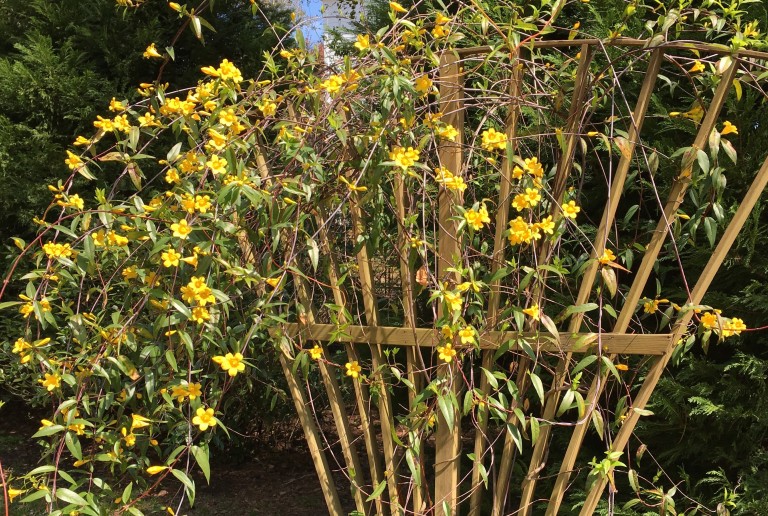 This angel wing begonia on my buddy's porch in West Ashley glistened one sunny afternoon. Begonias are excellent mosquito-repelling plants.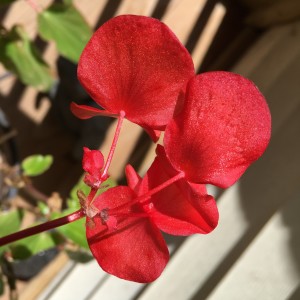 This iconic Lowcountry scene of a live oak draping over a creek on James Island is made even prettier by the calm high tide.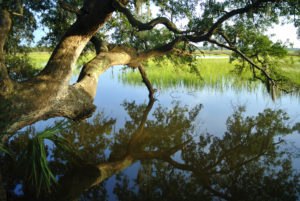 This Mt. Pleasant hydrangea exemplifies the classic blue flowers seen throughout the Lowcountry. Soil acidity determines the color of hydrangea flowers.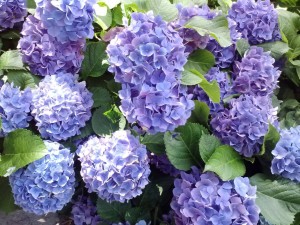 This cassia, which frames a James Island mailbox, looks amazing when backlit by the late afternoon sun.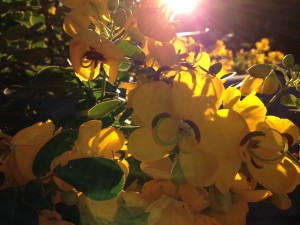 This downtown Charleston cherry tree gleamed in the sun one early spring day. The Lowcountry isn't known for cherry trees, but we do have them.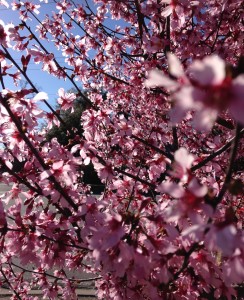 This shot is a little dark, but it shows good use of shade-tolerant evergreens in a perpetually-shady environment in downtown Charleston. Growing plants in deep shade can be challenging, but many downtown residents make good use of their alleys with ferns, fatsias, and hostas.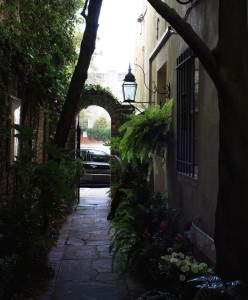 This Mt. Pleasant knockout rose bush produced a bumper crop of flowers this past fall. Knockout roses come in a variety of colors…this specimen produces pinker flowers than mine.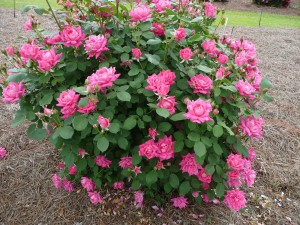 This illuminated palmetto tree on Kiawah is another example of the power of landscape lighting.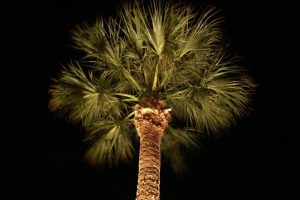 I happened to catch a glimpse of this magnificent hibiscus while working in Mt. Pleasant. Remember: hydrangea, shade; hibiscus, sun.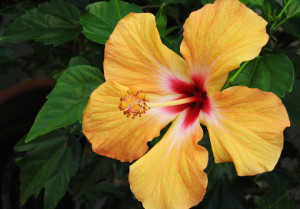 This zinnia from a sidewalk flower garden on the MUSC campus in downtown Charleston exemplifies the species's radiance, symmetry, complexity, and variety of textures. I very rarely use annuals because they're high-maintenance. I enjoy seeing them on other peoples' properties, however.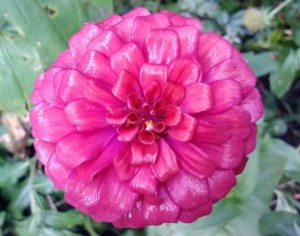 The pineapple is the Lowcountry symbol for welcoming. Lowcountry natives are welcoming indeed. The pineapple fountain in Waterfront Park in downtown Charleston is the ultimate symbol of our hospitality.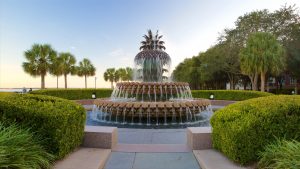 I caught a brilliant orange gulf fritillary butterfly making a stop on a brilliant orange Mexican sunflower while taking photos for a landscape design project on the Isle of Palms.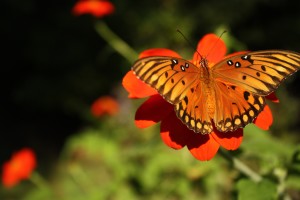 An abundance of beauty berries made this Mt. Pleasant backyard especially pleasant one unusually-cool late summer day.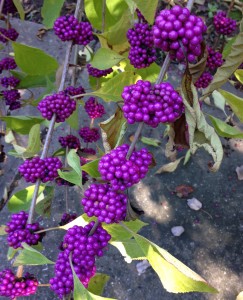 This rose of Sharon at my uncle's house in West Ashley hadn't bloomed in years until I pruned it early last spring.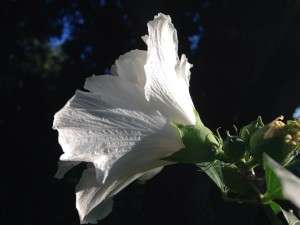 I like how the agave and sabal minors give the back-corner of this Seabrook Island yard a semi-tropical feel.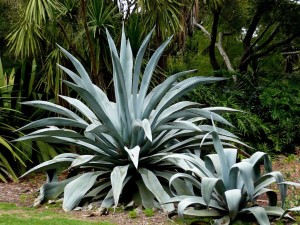 The foliage from a popcorn tree on James Island produced a charming collage of color one late fall day. I typically prefer evergreens to deciduous trees because they're low-maintenance and are full of life during the winter. But, deciduous trees do have positive attributes.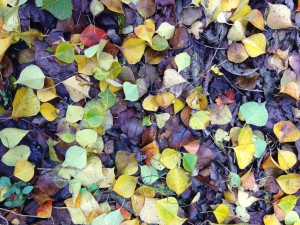 Mexican petunias are underrated plants. They have vibrant, symmetrical purple flowers that top interestingly-shaped, dark green stalks, as evidenced by this one in Mt. Pleasant. And, they're hardy.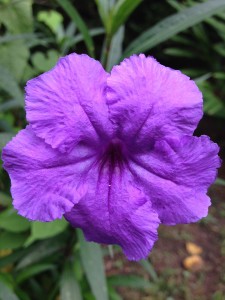 I have an affinity for flowers in general, but I especially like those on the blue-violet side of the spectrum. This crepe myrtle in North Charleston is one of the prettiest I've ever seen.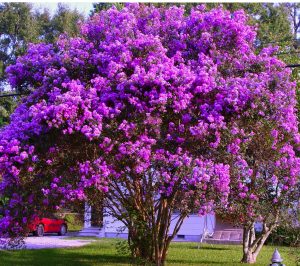 This James Island Bradford pear tree explodes with color every fall. Bradford pears are great to look at but not-so nice to own. Their brittle wood is highly-susceptible to wind damage, and, as deciduous trees, they dump their leaves shortly after looking impressive. But, they can always be enjoyed from other peoples' properties.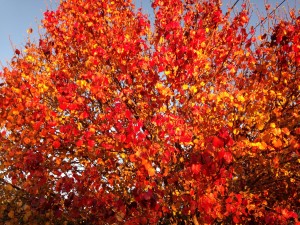 The same James Island Bradford pear tree produces an abundance of pretty flowers in the spring.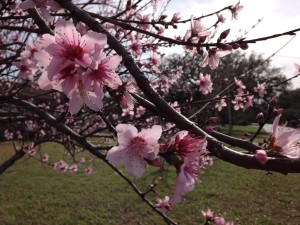 This sunflower from the MUSC campus garden in downtown Charleston provided much-appreciated brilliance one gloomy day.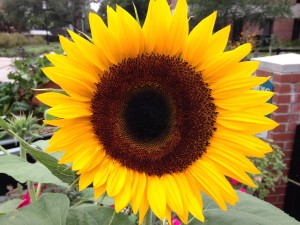 I really like this downtown Charleston boxwood arrangement. I think arrangements like these, placed on both sides of a property's main entrance, make the building look stately, yet welcoming.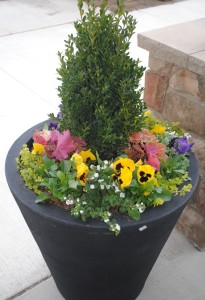 This camellia on Daniel Island was nearly perfect in both shape and color. The texture is very impressive.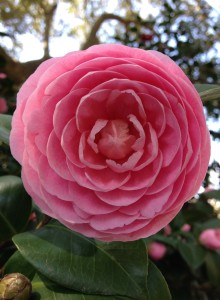 This Mt. Pleasant holly was full of berries just in time for Christmas. Hollies are great plants: They're evergreens, they provide winter color, they give sustenance to bees, and they provide privacy. Available in various sizes and shapes, they're also versatile.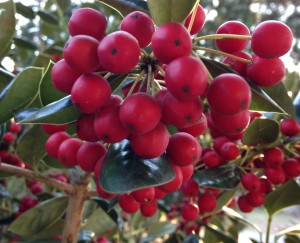 I was impressed by the red and green contrast of this downtown Charleston Japanese maple. (Also seen during the Christmas season.)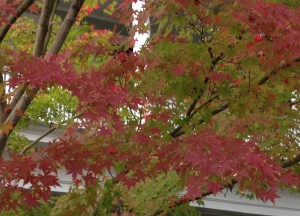 Nothing beats the color combinations of lantana. These multi-color lantana flowers on Daniel Island really popped in the sun against the dark-green background of the plant itself.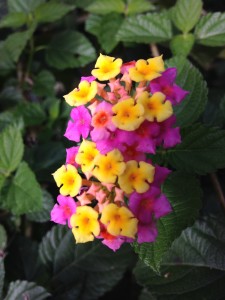 I like this abstract sun ornament, seen inside of a Charleston garden store. Ornaments work well with outdoor seating areas, which the Lowcountry has plenty of.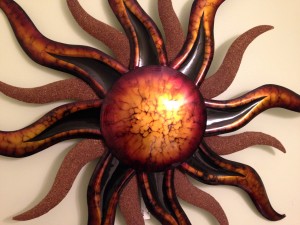 -Seth Mason, Charleston SC