"We are very pleased with how it turned out and have already gotten several compliments from our neighbors."
-Scott L.
James Island
(Read the complete Google review here.)
Type of job:
Landscape design and installation from scratch.
My response:
Builders often throw in landscaping as an afterthought, paying little attention to aesthetics or plant needs. The plants that the builder of this house installed had all but died. As it turned out, they were wrong for the environment and were installed directly into the fill sand on which the house sat. New builds with afterthought landscaping such as this give me an opportunity to employ creativity and gardening expertise on a blank canvas. I love it!
Before
Before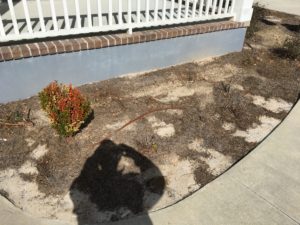 After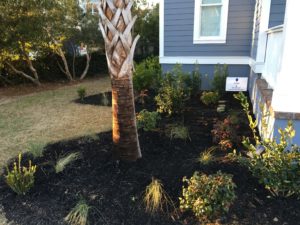 After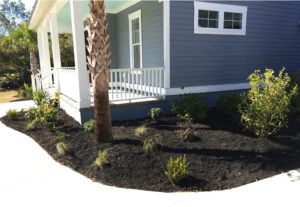 "My yard has never looked so good."
-Linda R.
James Island
(Read the complete Google review here.)
Type of job:
Yard makeover with significant trimming and installations of sod, plants, mulch, and stones.
My response:
Sometimes, yards are a diamond in the rough. They have the fundamentals of a good-looking property; they just need a good eye and plenty of tender-loving care to reach their full potential. For this yard, I removed a significant amount of overgrowth to create a view from the street that revealed the property at its full potential: a polished gem with new sod and strategic placement of flowering shrubs, mulch, and accent rocks. In time, this property will burst with flowers of multiple colors: knockout roses, encore azaleas, camellias, Land Banks roses, and more. I can't wait to see it!
Before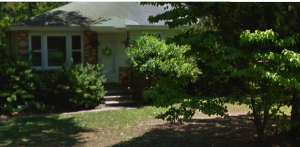 After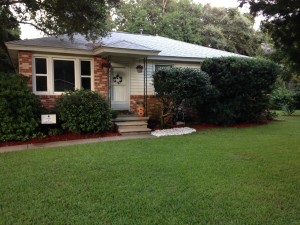 "The layout looks great…we love his use of natural stones. Seth is a professional that thinks big and converts those ideas into practice."

-Carol D.
North Charleston
(Read the complete Google review here.)
Type of job:
Construction of a crepe myrtle sitting area overlooking a Japanese garden with a koi pond centerpiece.
My response:
I'm a strong advocate of landscape design that offers the homeowner a place to physically immerse himself in the tranquility of nature. This includes the incorporation of sitting areas: patios, fire pits, etc. These homeowners' backyard didn't overlook a tranquil natural vista, so I built one in the yard itself.
To me, flowing water is the essence of tranquility…a koi pond centerpiece with a continuously-running fountain just made sense. And no koi pond is complete without Japanese plants and river rocks surrounding it.
I'm also a strong advocate of using native plants. So, for the sitting area, I balanced the non-native Japanese plants with native crepe myrtles and sweetgrasses. Eventually, the crepe myrtles will provide abundant shade to expand the amount of time that the area can be enjoyed. The owners say that they can't wait for the weather to cool off a little so they can start enjoying the tranquility of nature in their new creation. I hope they invite me over!
After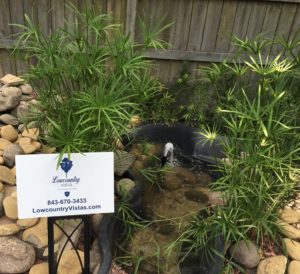 After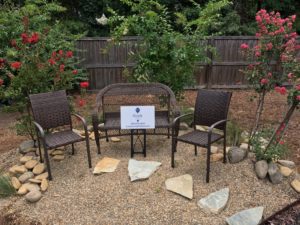 "Seth turned some good ideas into nice work and taught me about horticulture along the way."
-Tommy T.
James Island
Type of job:
Complete yard makeover with installations of shrubs, ornamental grasses, sod, mulch, and stones.
My response:
I like to use evergreens and perennials as much as possible in my residential landscape designs so that yards look good year-round and maintenance remains minimal. (Annuals must be replaced each year, and low-maintenance is one of the tenets of my landscape design and installation philosophy.) On this project, I used plenty of coastal grasses and sabal minors (look like dwarf Palmetto trees) to create a permanent Lowcountry motif around the walkway. For flowers, I used encore azaleas (evergreens that, unlike traditional azaleas, bloom throughout the growing season) and two kinds of hydrangeas (both perennial shrubs). New green sod, contrasting brown mulch, and lighter ornamental stones brought everything together.
Before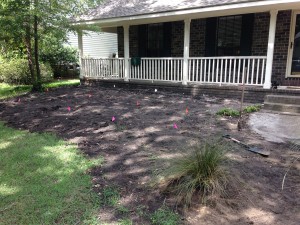 During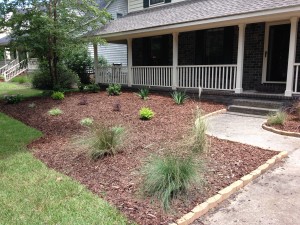 After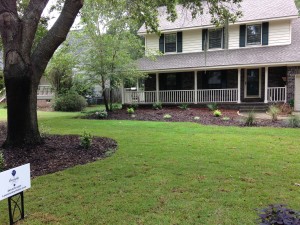 "I like the clean, simple design."
-John D.
Mt. Pleasant
Type of job:
Reconstruction of beds around the house.
My response:
I'm a firm believer in the KISS philosophy (keep it simple, stupid), and I like a clean look. For this project, I renovated cluttered beds, replacing them with a simple design of contrasting colors and shapes with a Lowcountry feel:
-dark green, pointy sabal minors ("shrub Palmettos")
-light green, circular and smooth dwarf nandinas
-gravity-defying purple dwarf loropetalums with pink flowers. (The flowers are pulled down by gravity like strips of felt, but the branches reach upward and outword.)
-pointy, flowing tan muhly grasses ("sweetgrasses", which will turn green and produce reddish-purple plumes)
-black mulch, which makes the colors pop
The soil in this neighborhood is a sand/clay mix topped with fill sand, a less-than-ideal growing environment. (The builder installed the original plants directly into the sand.) So, I made sure to use plenty of garden soil in each hole. I also installed weed barrier to ensure that the simple design doesn't get cluttered by invading plants. I'm excited to see the beds when the sabals, nandinas, and loropetalums get larger and the sweetgrasses show their plumes!
Before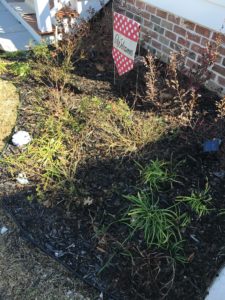 After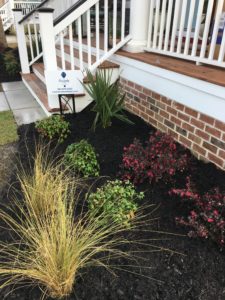 FYI: This is what pluming muhly grass looks like: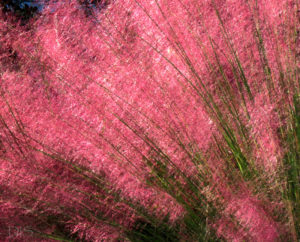 "This is exactly what we had in mind."
-Kristen S.
North Charleston

(Read the complete Google review here.)
Type of job:
Property use conversion from vehicle lot to modern yard.
My response:
This was a particularly enjoyable residential landscape design project. (And, one of my first.) A young, professional couple from the West Coast had converted a business into a cute home and asked me to design and install their yard from scratch. They had just 3 requirements: make use of the area around the shed, make the design "earthy" and eco-friendly, and keep the project affordable. So, first, I converted a large area around the shed into a "rock garden" full of contrasting curves and straight lines and light and dark shades. The couple, who had relocated from a desert landscape, was accustomed to areas of spiny, drought-tolerant plants in small numbers, so I installed a few ornamental grasses and cacti around the property. I kept the sodded area small and used drought-tolerant zoysia grass since the couple wanted to keep irrigation at a minimum. I had fun, and I'm happy that they were satisfied with the results.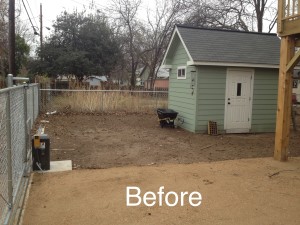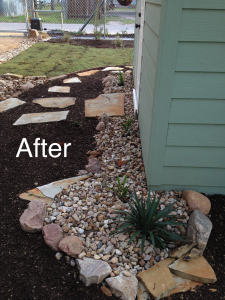 "I can't speak highly enough of Seth and his work and professionalism."
-Brad H.
Goose Creek

(Read the complete Google review here.)
Type of job:
Decorating a nearly-blank canvas in a newer neighborhood.
My response:
I especially enjoy decorating blank canvases because of the creative latitude they allow me. On this project, I put to great use my affinity for the Lowcountry coast in plant selection and overall feel. I was allowed to install landscape lighting, which made the coastal shrubs and grasses I planted look terrific at night. I'm a big fan of this style of landscaping, although I recognize that it's not everyone's favorite.
Before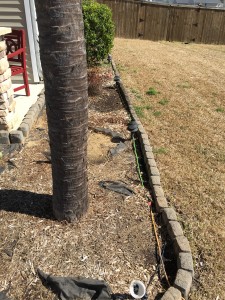 After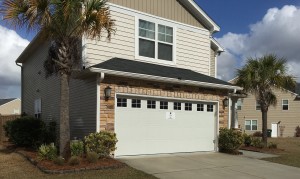 After (click to enlarge)