As residents of the Lowcountry, we're able to enjoy countless serene coastal vistas: creeks winding through our salt marshes, the Atlantic Ocean caressing our beaches, pelicans resting on our docks. The list goes on and on. Unfortunately, despite the abundance of tranquil seaside views the Charleston area offers us, few of us are blessed with the ability to take in these amazing scenes from our backyards. However, that doesn't mean that we can't make our backyards places where we can experience the tranquility of nature.
I'm a strong advocate of landscape design that offers the homeowner a place to physically immerse himself in the tranquility of nature, regardless of availability of coastal views. This includes the incorporation of sitting areas: patios, fire pits, etc.
Recently, I built two such areas: a patio overlooking the rolling green hills of a golf course (seen above), and a crepe myrtle-shaded sitting area (I use native plants whenever possible)…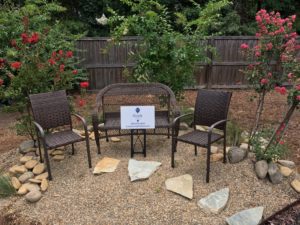 …overlooking a Japanese garden with a koi pond centerpiece, built upon a hill of river rock.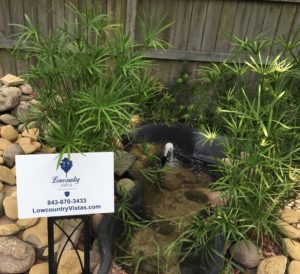 Neither homeowner has a seaside view, but now both of them have a place to sit and enjoy the tranquility of nature in their own backyards. You can read a more detailed account of the crepe myrtle/koi pond project on the testimonials page and the homeowners' complete Google review of the project here.
Seth Mason, Charleston SC